This amazing drink tastes like real Schweppes and believed it or not, can improve your health. It is easy to make and you can find all ingredients at the local store.
This is what you need:
400 grams sugar
2 lemons
10 grams citric acid
30 pieces of yarrow plant (dried or fresh)
5 kg water
Preparation:
Put the water and the sugar in a bowl. Chop the lemons into small pieces and add them in the water. Then add the citric acid and the yarrow.
Keep the mixture in a dark and cool place for 24 hours. After one day and strain it. Store the drink in glass bottles. The drink is ready to be consumed immediately.
It is recommended to drink one glass a day in the morning before breakfast.
Health benefits:
Yarrow is helpful in relieving fevers, shortening the duration of cold and flu, also it helps relieving cramps associated with hormones or illness. Applied topically, it is helpful with skin itching, rash or other issues. As a folk remedy it is used for dysentery, diarrhea, and loss of appetite, gastrointestinal tract disorder and to induce sweating. Some people chew the fresh leaves to relieve toothache.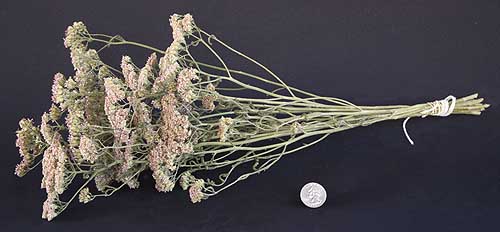 Interesting fact:
Yarrow is often mentioned in the Greek mythology. The Greek myth says that Achilles painted himself with a tincture of yarrow to make himself invulnerable to arrows, everywhere on his body except his heel.